Time Machine is an advanced feature in Mac OS X 10.5 Leopard. This is an easy-to-use and automatic backup tool. It goes back in time and recovers deleted or lost files from the drive. The tool also enables you to completely restore your drive in case of system crash. It creates incremental backup of the files, which can be restored at later stage.
How does the Time Machine Work?
It creates a directory on external storage device, which is named as current date and time. Then the backup tool copies whole primary drive to directory. Thereafter, it creates new directory on remote drive every hour using the same naming system. However, in place of making another absolute copy of the drive, it backs up the files that modified, and creates the hard links to files that exist on drive. You can browse the 'versions' of primary drive and check the file integrity.
How to Recover Mac Using Time Machine Backup?
Using below steps, you can recover entire Mac data from Time Machine.
Connect Time Machine backup drive to your system.
Insert Mac OS X installation disk, and double-click Install Mac OS X icon.
In Installer, select Utilities and then choose Restore System from Backup.
In Restore Your System dialog box, click Continue button.
Select the Time Machine backup volume.
Select your Time Machine backup that you need to restore.
Follow instructions as comes on screen.
In case if the backup media fails, you need to use third party Mac Data Recovery tools, such as Stellar Phoenix Mac Data Recovery, to retrieve lost files, directories, and hard drive volumes. This is an easy-to-use Mac Recovery application that works in all data loss situations.
You can easily recovery lost data using Stellar Phoenix Mac Data Recovery software through below steps:
Stellar Phoenix Mac Data Recovery is a powerful and user-friendly Mac Recovery application that ensures absolute recovery of data from formatted Mac hard drives. The read only software provides safe, robust and effective Mac Data Recovery from formatted hard drives. Built with highly graphical user interface, the software is easy to understand without prior Mac data recovery experience. Below are the steps that you need to follow to recover your lost data:
Step 1: Launch Stellar Phoenix Mac Data Recovery software. From the interface of this tool, select Time Machine back up disk. Further select any of the recovery options available for data restoration – Recover Data, Deleted File Recovery, Raw Recovery etc.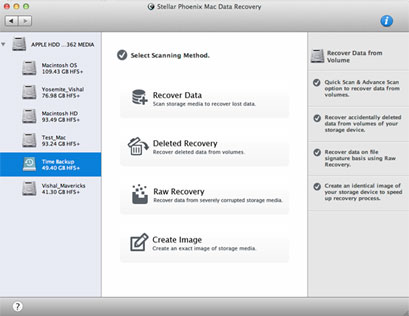 Step 2: Start scanning of the Time Machine back up drive with one of the available data recovery options. Start scanning of the Time Machine back up drive with one of the available data recovery options.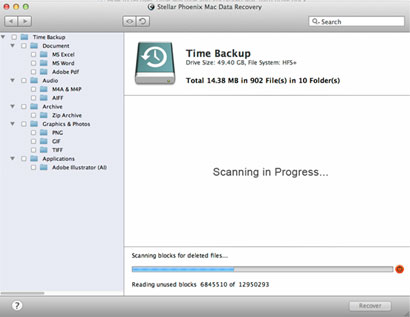 Step 3: Once scan of Time Machine hard drive finishes the software lists all files that can be recovered.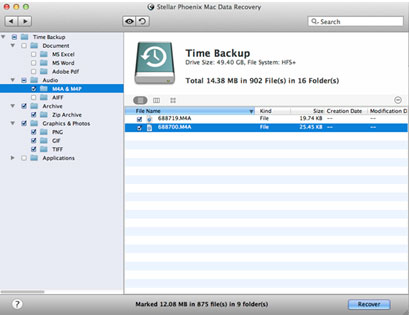 After the completion of Step 3, user can launch preview of its recovered files. Click Recover button to start saving the recovered files at user-defined locations.
No other available software does what Stellar Phoenix Mac data recovery V7.0 can do i.e. recovery of deleted, lost and formatted files from a Time Machine external hard disk drive. Update: V7.1 now supports Apple Time Capsule sparse bundle disk images.