To better understand the process of external hard drive recovery on Mac, let's split the processes into two comprising of Initial and Recommended Methods. Towards, the end of the article, we will be fulfilling our objective of Mac external hard drive recovery through a software.
Initial Procedure for Mac External Hard Drive Recovery
Must adhere to below bullet points:
Unplug external hard drive from Mac that underwent data loss through deletion, file system formatting, unmounting etc.
Check the external hard drive cables if the disk was ejected improperly or was invisible on the Mac desktop.
Re-plug the cables and connect the external hard drive to Mac again. Go to Disk Utility to check if the external hard drive was able to show up.
If Visible, verify whether the external hard drive is mounting. You can also use Terminal diskutil cs command to verify if the external disk drive is mounted?
Double-check the listed information of your external hard drive appearing in the Disk Utility panel.
If the external hard drive has file system issues due to which the stored data is inaccessible, then you must run First Aid on the device. (Not recommended for normal data losses)
Stop overwriting of the external hard drive further once data was deleted from it.
In a silent environment check if the external hard drive is making noise?
If the external hard drive is encrypted, then don't loose or forget its password since the data recovery software requires to unlock the hard drive for recovery.
Free Download Stellar Phoenix Mac Data Recovery Software for external hard drive data recovery.

Recommended Procedure for External Hard Drive Recovery Mac
Stellar Phoenix Mac data recovery software regains lost files, deleted & formatted data from an external hard drive too. It will recover any instances of deleted data from the below system formats:
HFS, HFS Plus, HFS Wrapper (Apple file system)
NTFS (Windows & Boot Camp file system)
EXFAT & FAT (Common Format for any external device)
Time Machine External hard drive
Password protected (Encrypted file system) external hard drives
Note: It is advisable to immediately stop the use of any external device once it has gone through file deletion or formatting. Doing this prevents overwriting of the lost, deleted and formatted data.
How to begin with external hard drive recovery on Mac?
Download the software, before you apply the below-mentioned steps to recover all deleted and formatted files from the Mac external hard drive.
Download the free trial version to scan & preview all the lost files and folder that can be recovered by the software.
Step 1: Connect the external hard drive to Mac OS X
Step 2: Double-click the Stellar Phoenix Mac data recovery icon to launch the software interface.
Step 3: Click on the Start Scan button to proceed to disk menu.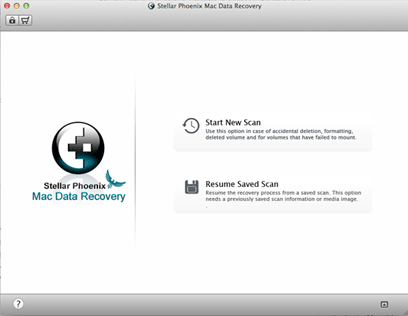 Step 4: In this step, you need to select your external hard drive. Also, select one of the recovery options from the list of available methods. Click 'Start Scan' to launch the scanning.
Step 5: Software starts deep scan of the external hard drive and recovers all files that were either lost or formatted. Once the scan is done, this data recovery Mac application will list all files that can be recovered.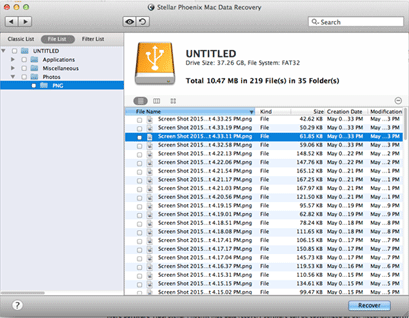 More Software Tips: Stellar Phoenix Mac data recovery software can be customized as per need. Use Software <<Preferences to
Using Preferences menu, user can search only for selected files and software will ignore all other files. This helps in reducing the scan time taken by the software. Though software has incorporated most of the popular files formats, user can use 'Add Header' to add newly created file formats.