Don't let Mac data loss let you drown; stay afloat with Stellar Phoenix Mac Data Recovery. The latest version, V7.0, adds significant points to the already skillful feature set of the software. Now recover your inaccessible, lost or damaged data better with improved scanning and recovery techniques targeted for any HFS, FAT32, ExFAT or NTFS based storage media.
With a fresh and attractive user interface and support for the latest MacOS Sierra 10.12, Stellar Phoenix Mac Data Recovery is well on the road to grab the title of the best data recovery software for Mac. Here is a detailed description of some of the most outstanding features of this remarkable software.
Smart & User Friendly
Mac Data Recovery
Software
Deleted File Recovery
Stellar Phoenix Mac Data Recovery helps you quickly and accurately recover files emptied from the Trash or permanently deleted through a "Command+Shift+Option+Delete" operation. Through advanced scanning techniques and searching algorithms, this application scouts for recoverable files on your entire volume and un-deletes them. And the best part of it is that all such files are recovered with their original names.
Mac Photo Recovery
Pictures are an important part of everyone's life and preserving them is a must. With Stellar Phoenix Mac Data Recovery, you can be sure that you'll never lose your precious moments even after disasters. This perceptive application squeezes out your lost or deleted photos, music and videos from your Mac hard drive or any other supported device like USB drive, digital camera, memory card, SD card, flash card, etc. Additionally, an intelligent filtering process lets you recover photos depending on file type.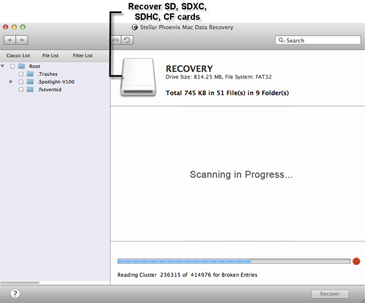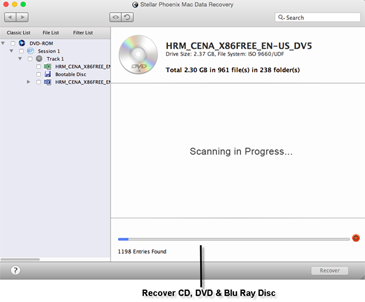 Optical Media Recovery (CD / DVD / Blu-Ray Disc)
CDs / DVDs often fall prey to physical damage and time-borne wear out. Stellar Phoenix Mac Data Recovery protects your data from such a calamity by expertly restoring all your seemingly inaccessible files from damaged or improperly burnt optical media. It reads through bad sectors on such discs and pulls out the required information in no time. Its wide compatibility with all common file systems of optical media, such as ISO 9660, Joliet, UDF, HFS and RockRidge is another added advantage. 
RAW Recovery
RAW Recovery enables search and recovery of lost, damaged or deleted files by recognizing file signatures. More than 122 file types can be identified by this sharp software with a scope to add new signatures to its knowledge base. This unique capability of this feature enables the application to pull out data from even the most severely corrupted volumes.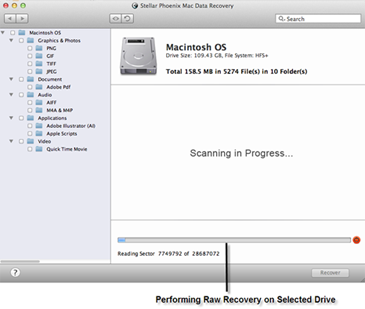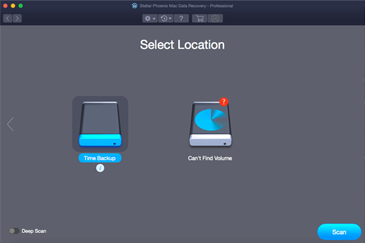 Time Machine backup drive Recovery
Use the amazing capabilities of this application to swiftly restore data backed up to a Mac hard drive or external hard drive using Time Machine. Just plug-in the backup drive and experience the tool's expertise. With informatively explained options and an easy to follow step-wise approach, this software makes recovering data from a Time Machine backup drive seem like child's play. Support for Apple Time Capsule sparse disk bundle image has been added in Stellar Phoenix Mac data recovery V7.1.
Encrypted File System Recovery
Stellar Phoenix Mac Data Recovery makes recovering data from encrypted file systems easy and glitch-free. Have a Mac hard drive that's password protected? That's no problem for this brilliant software. Adept algorithms help this tool to bypass complicated encryption to reach your valuable data and bring it back to you.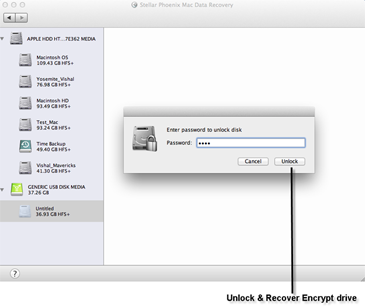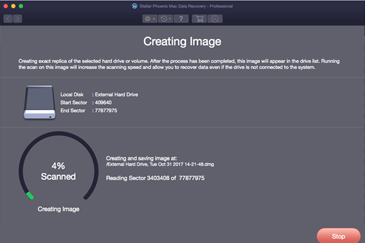 Create Image
Having a backup is the safest way to protect your data. At Stellar, this fact is acknowledged and that's the reason Stellar Phoenix Mac Data Recovery comes with an utterly beneficial feature called "Create Image". It helps you to create and keep a mountable image of your Mac hard drive, volume, or selected region so that in case of any crisis, you will have a complete backup of your hard drive in the form of an image file. This image file can subsequently be used to recover data. This feature is especially useful if you suspect the development of bad sectors on your hard drive, which could lead to a drive failure.
Deleted Volume Recovery
Recovering entire volumes that have been lost or deleted from any HFS, HFS+, FAT, NTFS, or ExFAT formatted drive is made simpler and straight-forward by Stellar Phoenix Mac Data Recovery. If you are unable to see existing volumes on your iMac, Mac Pro, MacBook Pro, MacBook Air, or Mac Mini, this software can locate and rebuild those lost or deleted volumes conveniently to help you get your valuable data back.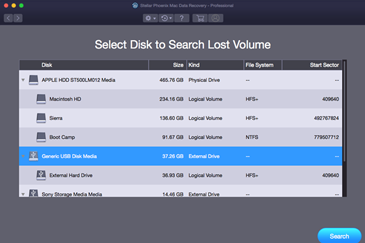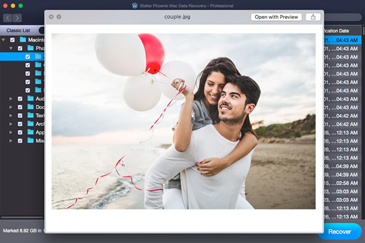 Safe Mode Preview of Files
The unique preview feature of this application has been enhanced to become more insightful. Now select a file and simply click on an "Eye" button to look at its preview. The most noteworthy aspect of the new preview feature is the ability to prepare your Mac to handle increased performance requirements. Previewing corrupted files while the scan is still running could lead to a system freeze or crash. But the latest version of Stellar Phoenix Mac Data Recovery caters for this before-hand by running the preview in safe mode for such cases. Download Now
Revamped UI and More User-centric
The user interface of Stellar Phoenix Mac Data Recovery has been revamped. Stylish and simple screens with adequately explained options make data recovery on Mac more wholesome than before. Moreover, perks like option to check-uncheck files and folders using Space bar, updated drive information, support for SMART status of drive, advanced filter options, introduction of 'Use Disk' option for faster processing and 'Minimum RAM Usage' in case of bigger drives with large amount of data make working with this excellent software a joyride.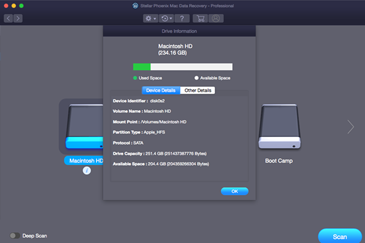 Wider Compatibility
In addition to being fully compatible with the latest macOS Sierra 10.12, Stellar Phoenix Mac Data Recovery version 7.0 has and updated QuickLook View Support for Mac OS X 10.6, 10.7, 10.8, 10.9 and 10.10.
Try out the demo version of this software today and test its utility. Once you see your coveted files in the preview after scan, you won't be able to resist purchasing the full version of this wonderful software and take the benefit of its full potential.
*Download the free trial version to scan & preview all the lost files and folder.