Gear up for the best protection against Mac data loss that you've ever experienced, with Stellar Phoenix Mac Data Recovery. The power-packed latest version of the software offers you an incomparable range of features and benefits making it the ultimate Mac data recovery product of 2017.
Key highlights of Stellar Phoenix Mac Data Recovery include improved 'Deep' and 'RAW' Scan capabilities, large fragmented data recovery support for HFS+ file system, major UI enhancements, customized scanning options to recover selective data or all types of data, and many more. Let us visit all these features in detail here.
Smart & User Friendly
Mac Data Recovery
Software
Deleted File Recovery
Stellar Phoenix Mac Data Recovery performs risk-free and accurate recovery of all your critical Mac files including documents, emails, videos, audios, and photos. With the software's latest version you can customize exactly what kind of data you wish to recover through convenient toggle buttons that can be switched to "On" or "Off" state. To recover all kind of data, simply toggle the "Recover Everything" button to "On" state. Regardless of whether your Mac files have been lost due to a faulty "Empty Trash" operation, a permanent Delete key combination (Command + Option + Shift + Delete), or due to other more complex issues like system file corruption or accidental formatting, Stellar Mac file recovery helps you regain access to missing files in no time.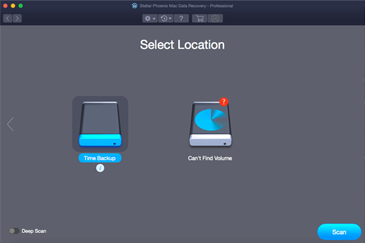 Time Machine backup drive Recovery
A failed Time Machine backup drive could make you lose access to all your saved Mac backups. Insure them today with Stellar Phoenix Mac Data Recovery. With improved capabilities for 'Deep' as well as 'Raw' scanning, this utility enables you to pull of all recoverable data from internal / external hard drives, memory sticks, USB flash drives, and other storage media. If your Time Machine backup drive has been compromised due to severe file corruption, that's not an issue for this powerful product; with extended support for Apple Time Capsule (recovery from sparse bundle disk image), Mac file recovery software is just the savior you need.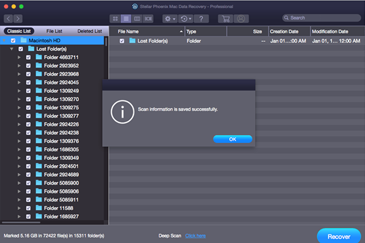 Save Scan & Resume Recovery
Running short on time? Scan storage media once and perform customized file recovery multiple times. With Stellar Mac Data Recovery, you can initiate a Quick / Deep / RAW scan on any media and when the scan completes, you can save the scan information on your Mac hard drive as a Disk Image file (DMG). This DMG file can be loaded into the software to resume file recovery at any later stage.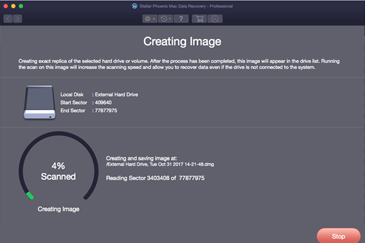 Create Disk Image
Worried your Mac hard drive is falling prey to bad sectors? Protect the data on the remaining sectors before they get damaged too, by imaging your Mac hard drive with Stellar Data Recovery Mac software. The "Create Image" feature of the application allows you to create and save a sector-by-sector mountable image of your entire hard drive or selected sectors which can be used to restore data from when needed. The hard drive image is saved as a DMG file on Mac's hard drive and is directly accessible by the software.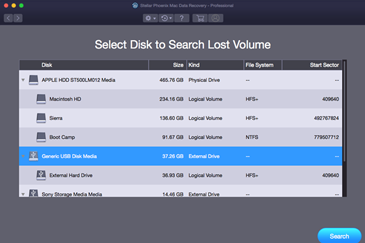 Find Lost Volumes
Mac volume loss can happen without warning owing to damaged partition table, virus / malware infections, incorrect formatting operations, or mistaken deletions. If your Mac volumes go missing, you could lose access to all data stored on them for good. Stellar Data Recovery Mac software helps you detect HFS+, FAT32, ExFAT and NTFS volumes easily and further enables you to recover lost data from them. You even get access to large fragmented data recovery support for lost HFS+ volumes.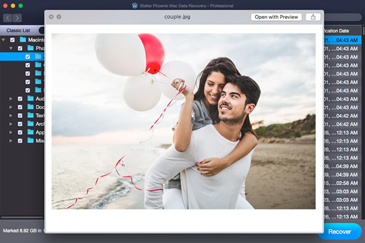 Upgraded File Preview
Preview recoverable data was never this fun. The latest version of Stellar Phoenix Mac Data Recovery includes major enhancements in the file preview feature. You now have the choice of viewing a running preview of recoverable files as and when they are discovered during scanning or skip it. Further, once the scan completes, you can arrange recoverable data in Classic List for original tree, File List for category extension, and deleted list for deleted data as well as RAW Data and preview individual items from these lists. Download Now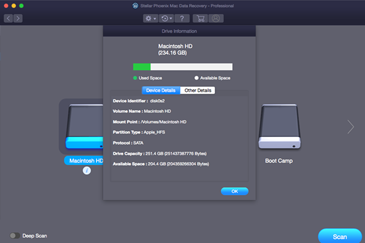 More User Friendly
If there was an award for the most user-friendly Mac data recovery application, this product would win it hands down. Version 8 of Stellar Phoenix Mac Data Recovery comes laced with more user friendliness than ever before with volume information display of selected drive, check-uncheck of file and folder for recovery using Space button of Keyboard, zoom-in and zoom-out Slider added in Thumbnail View, Unicode Drive-Name / Image Support for All Types of Scan, and much more.
To top it all, Stellar Phoenix Mac Data Recovery is fully compatible with macOS High Sierra 10.13 and all previous Mac OS versions up to 10.6. With Advanced Preferences like Add / Edit File header, Saving Filters, Online Activation etc., this is a product you should stay without for long.
*Download the free trial version to scan & preview all the lost files and folder.