How to Recover Photoshop Files on Mac for Free
Summary: Learn how to recover your lost/deleted/unsaved Photoshop files with a few easy to deploy methods, such as using the Autorecover folder, Temp files, and TimeMachine. In scenarios where these methods don't work, you can opt for software such as Stellar Data Recovery Free Edition for Mac and recover your valuable Photoshop files for free. Download the software from the button below:



Adobe's Photoshop is a popular image editing application used by graphic designers, photographers, artists, etc. It takes a lot of time, effort, and creativity to create an image on Photoshop, and losing your Photoshop files due to any reason can be very stressful.
Fortunately, there are plenty of recovery methods that can help you find your unsaved/lost/deleted Photoshop files. If the generic methods fail, you can opt for professional Mac data recovery software to recover your files for free.
Let's take a look at the methods one-by-one.
Method 1: Use AutoRecover Folder
The autosave feature in your Photoshop software allows you to recover your unsaved Photoshop files quickly. If you have enabled the feature, then follow the steps below to restore your files from the AutoRecover Folder:
1. Click on the Go option on the Apple menu.
2. From the drop-down, select Go to Folder.
3. In the next window, type the command: ~/Library/Application Support/Adobe/Adobe Photoshop CC 2017/AutoRecover
4. Click Go.
5. Next, open the AutoRecover window, and all the lost and unsaved files will be displayed.
6. Save the desired files on your Mac.
Method 2: Use Photoshop Temp Files
Many photoshop users have complained that they are unable to find the AutoRecover folder on Mac. Fortunately, there is another way to access the unsaved photoshop files. Temp files on Mac are automatically created whenever a new .PSD (photoshop document) file is created. These temp files get deleted when you close the Photoshop app. If you are using this feature, you should check the folder immediately once you realize that the photoshop files are missing.
Follow the steps below to locate the Photoshop Temp Files.
1. Launch Finder by clicking on the blue and the white face icon located on the doc's left side.
2. Type Application and then run the Terminal application.
3. Enter the following command in the Terminal window: open $TMPDIR
4. Press the Return key.
5. In the next window, go to Temporary items and look for PSD files.
6. Open these files with the Photoshop application.
7. Save the desired files.
Method 3: Use Time Machine to restore your Mac to a previous version
Many people use the Time Machine feature to back up their files on an external drive. If you have the feature enabled, you can use the below steps to locate the lost/deleted Photoshop files:
1. Connect the backup drive to your Mac.
2. Click TimeMachine icon in your dock.
3. Look for your Photoshop files in the application.
4. Select those files and click Restore to recover your Photoshop files on Mac.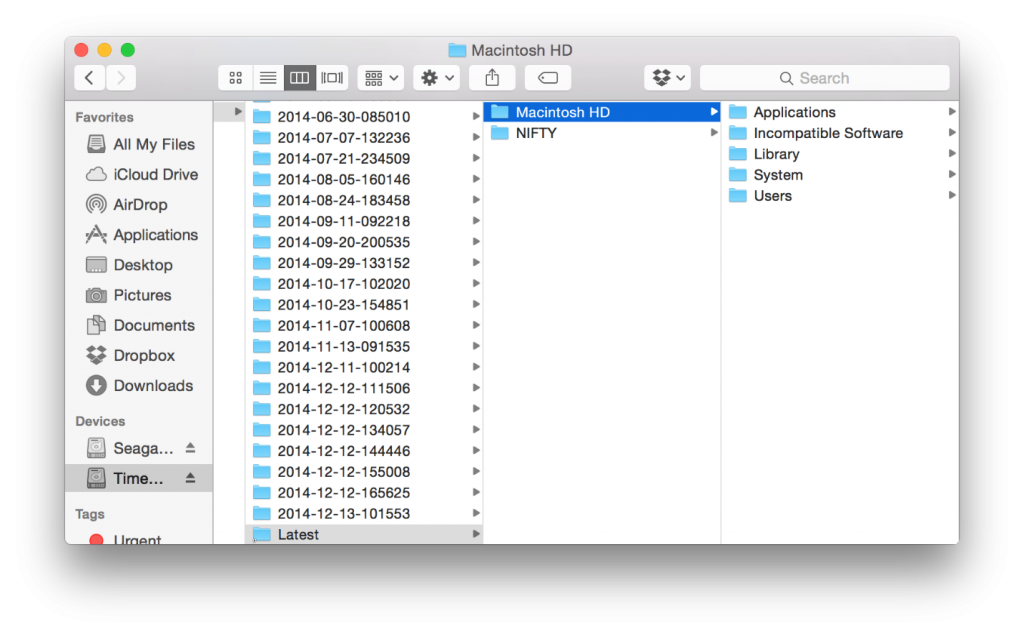 Image: Snapshot of a Time Machine folder
Method 4: Recover your lost data with Software
If the above methods do not work, you can take the software approach and recover your data with a free yet professional data recovery software like Stellar Data Recovery Free Edition for Mac. The software is designed to scan your Mac system, trace the lost/deleted/unsaved files, and restore them to your system. It is an indispensable tool and can be used to restore all types of files.
With Stellar Data Recovery Free Edition for Mac, you can recover up to 1GB of data free of cost. For unlimited data recovery and additional features, you can explore the other variants of the software here.
Watch the video here to see how to recover your lost data with Stellar Data Recovery Free Edition for Mac.
Conclusion
Photoshop is essential software for many people, and losing Photoshop files can be a major hassle. As illustrated in the blog above, there are various methods that you can apply to recover your Photoshop files. However, in certain cases, you need to utilize a free Mac data recovery software like Stellar Data Recovery Free Edition for Mac to recover the fruits of your hard work.