macOS Big Sur Data Recovery Made Easy with Stellar Data Recovery
Summary: Recently upgraded your macOS Catalina to macOS Big Sur and lost files after the process ? macOS Big Sur Data Recovery now made easy with Stellar Data Recovery Free Edition. Download now!



macOS Big Sur is not just any periodical OS upgrade but a complete overhaul of the previous Mac version. Everything has changed; from the look and feel of the Dock to the complete redesigning of major icons. The Windows look cleaner with rounded edges, and the app icons are made to look more compatible with the content.
Some other significant changes include;
• Better sound output
• Controls and buttons only appearing when required
• Customizable Control Center
• iOS-style widgets, messages
• Faster Safari with a built-in translation feature
• Password monitoring and protection
macOS Big Sur is a completely redesigned version of the old macOS Catalina, created for a more personalized experience.
No doubt, Mac users are going to love this massive upgrade replete with a lot of iOS-like attributes.
However, one needs to be careful while performing an upgrade to macOS Big Sur from their existing Mac version. Any major OS update can cause severe data loss if there are interruption or errors while downloading. There might be errors such as:
• Internet disconnection
• File Corruption
• Error while installing the update
• Drive corruption
• Impartial OS upgrade
• Accidental erasure of startup disk
Fortunately, there are solutions available to bring back your lost data due to an OS update. You may use built-in tools like Time Machine and Disk Utility to restore lost files in Mac, or you can straight up opt for professional data recovery software such as Stellar Data Recovery Free Edition.
If you end up losing data after updating your macOS to Big Sur, you will need a free solution to restore your files in no time. Stellar Data Recovery comes to the rescue when you need a one-stop solution to recover data immediately. It works on a 3-step principle – Select, Scan, and Recover, making it the fastest and the easiest of the lot. Using Stellar Data Recovery Free Edition, you can recover 1 Gb of lost or deleted documents, emails, photos, videos, audio, etc. for free. Along with OS recovery, it can also bring back data lost due to Startup Disk formatting or drive corruption.
Without much ado, you should download the software and follow the instructions on the screen for a quick recovery. Let's see a step-by-step guide showing data recovery using Free Mac Data Recovery software.
Download and launch Stellar Data Recovery Free Edition for Mac.

Step 1. On the Select What to Recover screen, select the type of files you want to recover and click Next.
Step 2. Now, select the location from where you want to recover your lost data and click Scan.
Step 3. Preview the files and Recover.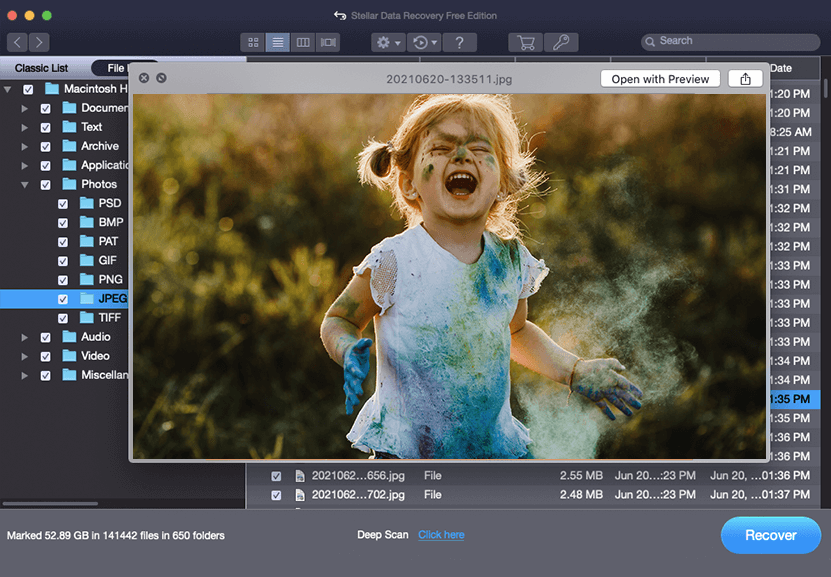 For a detailed guide to recover lost files after OS upgrade, watch this video here.
Wrapping Up
While an OS upgrade makes way for better performance, ease-of-use, and a more personalized experience, it's important to be careful while downloading the update as any improper download or interruption can cause severe data loss. It's always advised to be prepared for such scenarios by keeping a free mac data recovery tool, such as Stellar Data Recovery Free Edition for Mac handy. The DIY software can bring back your data in three quick steps – Select, Scan, and Recover.