Free Recover Data after Accidentally Erasing Mac Hard Drive
Summary: Learn how to retrieve your lost data from a Mac external hard drive after accidentally erasing it using Disk Utility. The method involves using the following free data recovery software for Mac that you can download from here.



"Hi, of late, I've accidentally erased my 2 TB WD external hard drive on my MacBook Air running on macOS Catalina 10.15. The storage drive contained my photos, videos, and important documents that I've archived in it. Please suggest any way to recover my lost data from the drive. Sincerely, Michael Lynn"
Mac hard drives erasure due to human error is quite common. In such a situation, the best way to avoid permanent data loss is to stop using the storage drive immediately. Once you recover data from the drive using free Mac's data recovery software, you can restore the recovered data to the drive and use it as usual. The next section describes the software method in detail.
Recover Erased External Drive Files Using Free Mac Data Recovery Tool
In case you have accidentally formatted your Mac-based external hard drive using Disk Utility, perform the following steps to salvage your lost data.
a) Download and install the *Stellar Data Recovery Free Edition for Mac software on your MacBook Air.

b) Launch the software, select the type of data present on the external hard drive, and then click Next.
c) Select the formatted external hard drive, switch on Deep Scan to allow rigorous scanning of the drive, and then click Scan.
d) Preview any scanned file by double-clicking it to check its integrity. Select all those files that are required.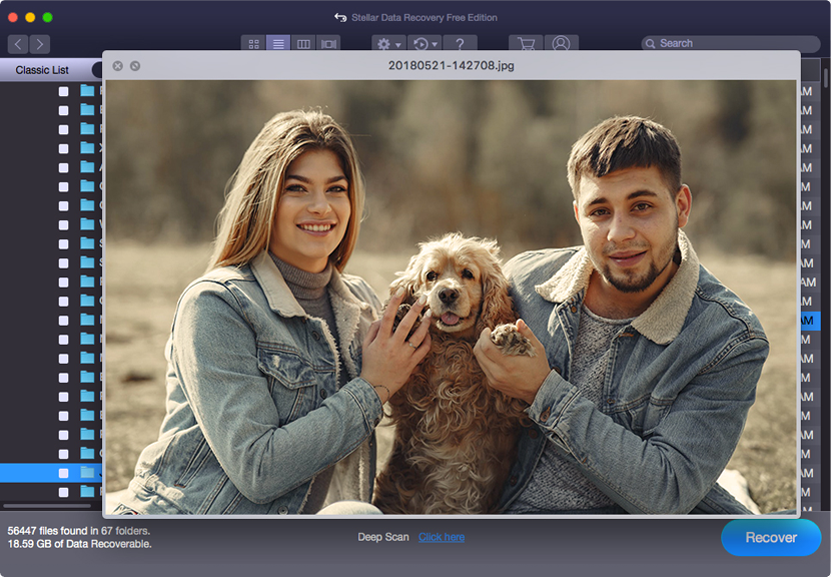 e) Click Recover to salvage the recoverable files. On the pop-up window, click Browse to specify a different drive location (to avoid overwriting on the same drive), then click Save.
f) Navigate to the specified location to find all your recovered files. Verify them. Finally, restore the recovered files to the external hard drive.
*Stellar Data Recovery Free Edition for Mac software is suitable for recovering small amount files (up to 1 GB) for free. However, you can switch the Free Edition version to Stellar Data Recovery Professional for Mac once you have consumed the 1 GB free data recovery quota. Upgrade confidently as the software has a 30-day money-back guarantee.
Recover Erased Hard Drive Data Using Backup
For a Mac-based external hard drive, keeping its backup will help you restore data from the backup medium if you accidentally erase the original drive.
For the Mac startup disk, macOS has the option of Time Machine that incrementally backs up data from the disk to an external backup device. So, in case of the erasure of Macintosh HD during the clean installation of macOS or otherwise, you can use Time Machine to restore your Mac data from the backup drive.
In the absence of backup, you can always rely on Mac's data recovery software to help salvage all your files and folders from the formatted Mac hard drive, be it internal or external.
Conclusion
Erasing of Mac external hard drive due to human error will no longer bother you. Now, you have Stellar Data Recovery Free Edition for Mac software to rescue your lost data from the erased Mac hard drive with three easy steps: Select, Scan, and Recover. The software is compatible with macOS Catalina 10.15 and earlier and works on any Mac models, external hard drives, SSDs, USB flash drives, and other data storage media.