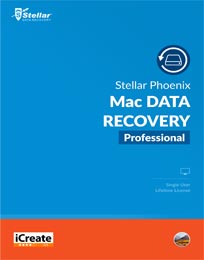 Recover Deleted Files Emptied from Trash on High Sierra
Stellar Phoenix Mac Data Recovery Professional – This file recovery is designed to exclusively recover forever deleted files from trash on macOS High Sierra. Without delay, launch the scan on your Macintosh HD to restore deleted files before they get overwritten.
1st interface: Select all files you want to recover from trash
2nd interface: Select Macintosh HD or external hard drive
3rd interface: Let the scan gets complete
4th interface: Preview all the files that are now found
5th interface: Recover all the files to another drive
Trash Recovery on Hard Disk Drives
Internal Macintosh HDD: Don't overwrite the files by copying new files from web or other devices. Run Stellar Phoenix Mac Data Recovery and scan Macintosh HD to recover trash emptied files.
External HDD/SSD: Avoid overwriting to the affected external SSD & HDD. Launch Stellar Phoenix Mac Data Recovery and scan your external storage drive to restore files removed from the trash.
When to Use Trash Recovery on High Sierra?
When files are missing from macOS High Sierra
When files are lost from the drive
When data is emptied from trash
When files are deleted permanently from the trash
When trash is emptied accidentally
Watch Video of Trash Recovery on MacOS High Sierra
*Free Download allows free evaluation of the Mac data recovery software. To recover the APFS drive user needs to register the tool