How to recover lost MKV, M4V, SWF videos from Mac
Summary – You might be having ample videos on your Mac of different file formats. Unfortunately, if you have deleted those videos by any means & then later you realize how important those videos are, you get panic & started looking for the solution. In this article, learn how to recover MKV, M4V, SWF lost videos from Mac using Stellar Data Recovery Professional for Mac Software V9.0, the most trusted software which helps you in recovering the videos you have lost.
Usage of MKV, M4V and SWF file formats
To play videos online, there are limited media players compatible with all devices. These formats are compatible with most of the devices and are easily converted to any other formats if required using any video converter software.
SWF files are meant for storing animated videos & vector graphics. You can run any SWF file on your mac by downloading SWF Media player for free.
MKV files are usually high-quality videos compressed. MKV files can be played on a Mac easily, by just downloading a free application that supports playing the high-quality video format. Standard video players won't be able to run HD videos so you must be needing MKV format to run those videos.
M4V used to store video downloaded from the Apple iTunes store, such as TV episodes, music videos, and movies. You can play the protected M4V videos only if you are using iTunes or you can say your Mac is authorised. The M4V file extension could be changed to MP4 file extension if the files are recognised as unprotected M4V & will be played with the different video players.
Factors causing MKV, M4V and SWF videos deletion
Human errors – Sometimes you may end up losing your deleted files by accidentally emptied the Trash Can which contains your important data
Accidental Format – When you have accidentally formatted the drive which contains crucial data
Corrupted Memory Card – Using corrupted memory card can also cause the videos to get deleted.
Interruption during transfer – During file transfer, if you pull the memory card or not ejected memory card correctly, the video files might be eliminated.
How you can RESTORE deleted Videos
When you delete any file from Mac you may have the chance to recover the deleted files as they may not be erased from the hard drive permanently. You can try following methods to restore your deleted videos:
Time Machine Backup – If you have enabled the time machine backup then chances are more to restore the deleted video files as it takes the backup of your data by default.
Look into trash – You can get your files from trash if you have not deleted the files from the trash can. Simply drag the files from the trash folder to the desktop.
Data Recovery Software – If you have tried above methods without success don't get worried. Try Stellar Data Recovery Professional for Mac V9.0 Software to recover your deleted videos. It will recognise & helps you restore the videos of any file format. Feeling relief! Now follow the below simple steps to run software on your Mac
Step1. Launch Stellar Data Recovery Professional for Mac V9.0 software. Unselect all buttons & Select the video option from 'Select What to Recover' interface.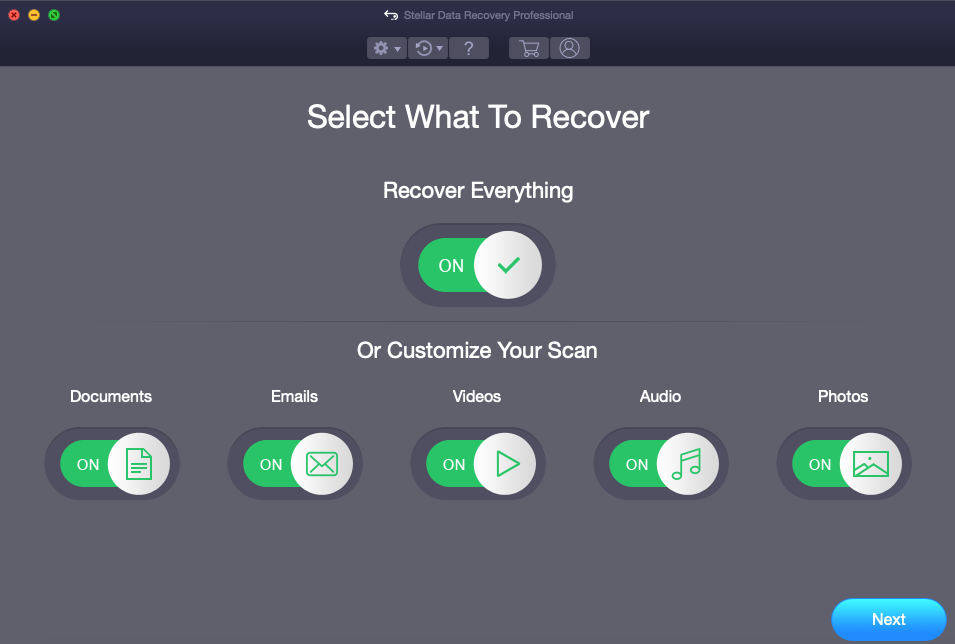 Step2. In the second interface, select the hard drive from where you want to recover the deleted videos.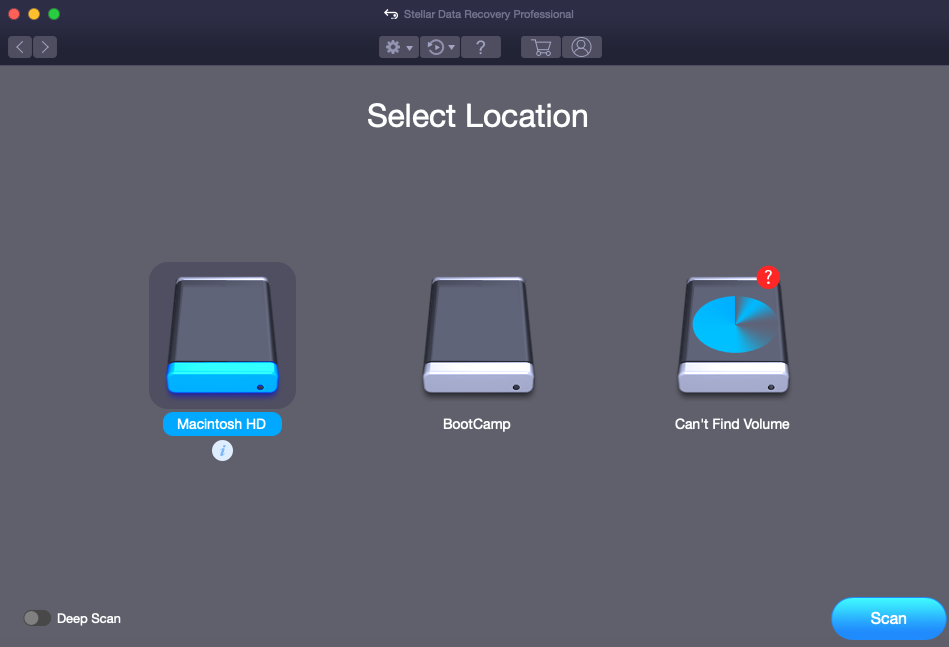 Step3. Select the desired file formats like MKV, M4V and SWF to make scanning process more precise.
Step4. Click Scan option. The software will scan & display all recoverable deleted videos of selected formats. You can Turn On/Off the preview button.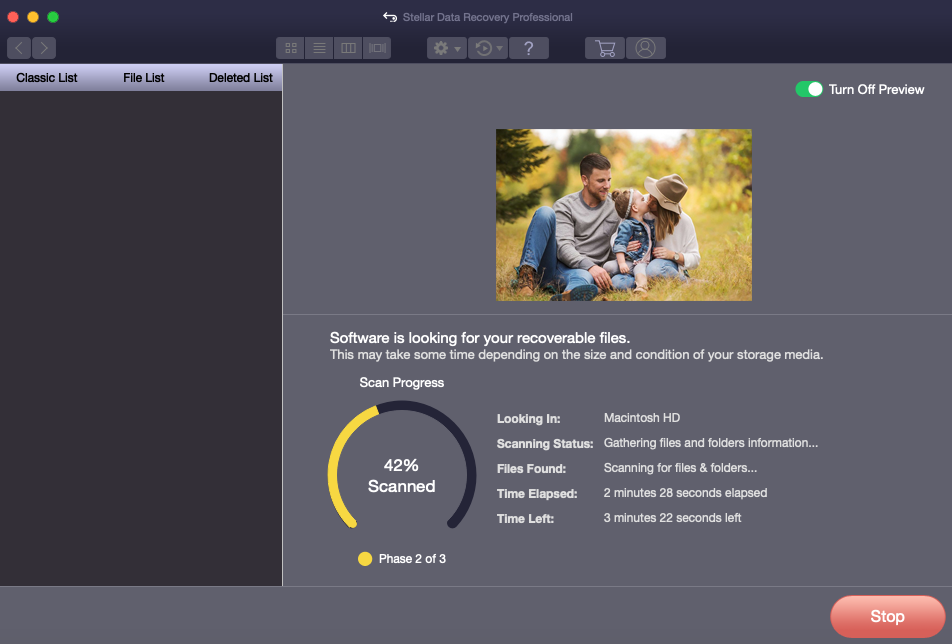 Step5. Select those videos you want to recover & click on Recover option and Preview the files.
Step6. Save the recovered files at the desired location.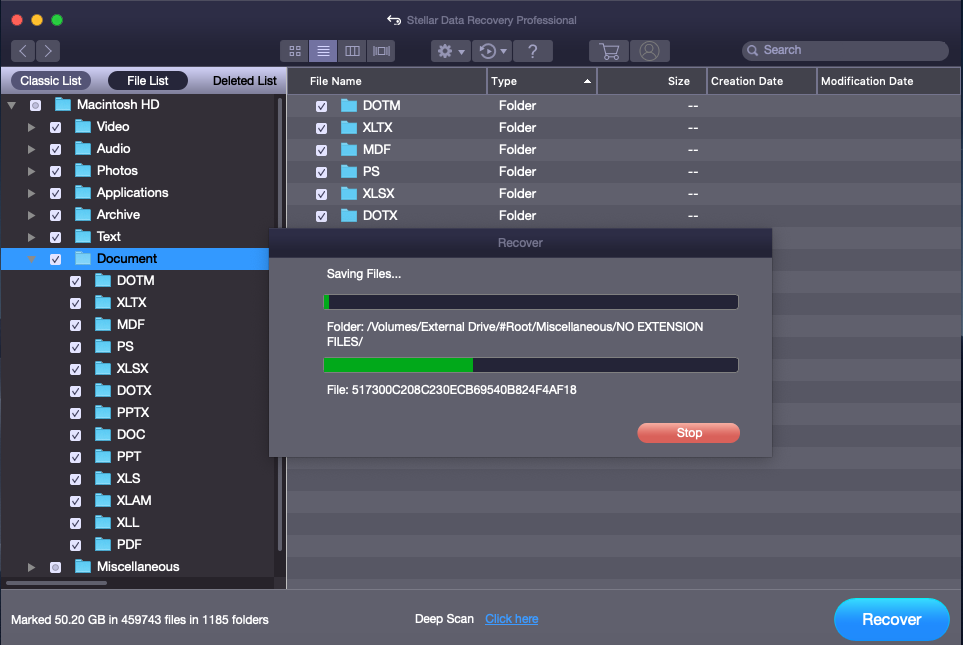 Conclusion:
The above-explained Data recovery software not only recover videos but will recover anything which you have lost. It quickly scans & recovers the deleted files from the hard drive. It is always recommended to have the backup of your data to restore your deleted data at any point in time quickly. Otherwise perform data recovery as soon as possible. Hope I am clear with the steps to restore the deleted videos. Do let me know any other queries.