A guide to external hard drive recovery with best software tips
How do you select Mac data recovery software to recover your deleted files from an external hard drive? Most probably you run a free scan on the external hard drive using the software demo and depending upon the percentage of data recovery; you make the registration.
Through this article, we want to tell you all the possibilities of data losses from an external hard drive and data recovery using Stellar Phoenix Mac data recovery software. At the end of the article, you will realize that you have got best Mac data recovery software recommendation for your external hard disk drive.
File deletion from Mac external hard drive and its recovery
You have to stop using the external hard disk once files/folders are permanently removed from your hard disk. If you don't stop writing new files to the external hard drive, then the chances are high that you might overwrite the deleted files from its hard drive location. Once file deletion is realized, you have to run the software's free scan to recoup the deleted files. For this purposes, Stellar Phoenix Mac data recovery offers a unique recovery option named Free Deleted File Recovery, which goes deep into millions of sectors of external hard drive and salvages the deleted data.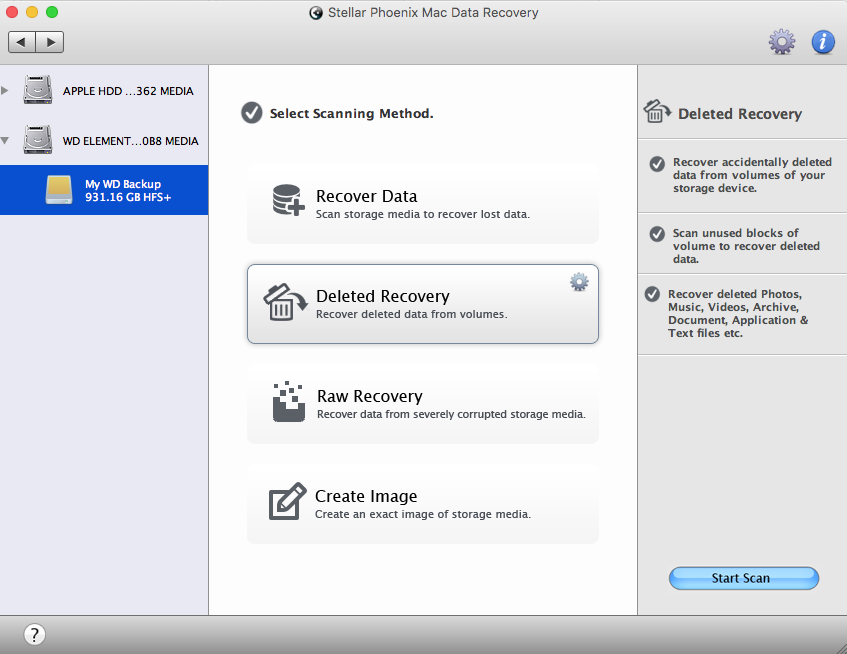 Further, you can also customize the deleted file recovery using the 'Settings' button that is mounted on Deleted File Recovery button. This button allows you to save time that software will take to scan files of particular formats. For instance: if only deleted documents are to be recovered then
Check Documents, Archive and Files
Uncheck all other options (see below image)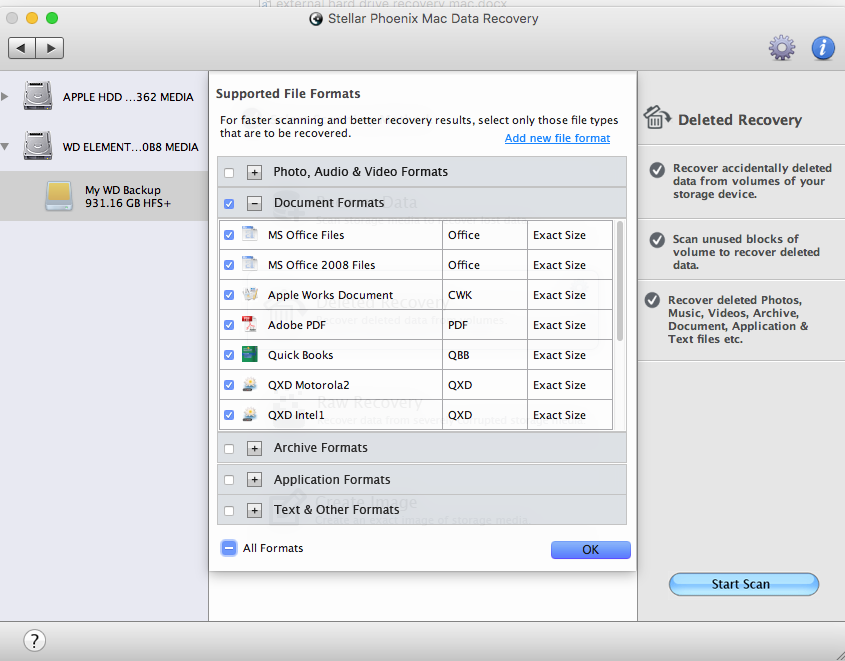 This will surely reduce the scanning hours taken by the software to recover particular documents.Read – How can I recover data from Empty Trash
Retrieving a formatted or erased Mac external hard drive 
Apart from file deletion, external hard drive formatting is the most infamous cause of data loss. Drive erasure is performed intentionally, accidentally or in helpless conditions. A helpless condition includes hard drive formatting to repair drive structure corruption. Through the external hard drive is saved from directory corruption, sadly the files stored on the drive are lost. Macs often asks the user to Initialize the external hard drive if the OS X fails to recognize the file system due to corruption.
Using Mac data recovery software, you can easily restore the data lost due to the formatting of the external hard drive. See how: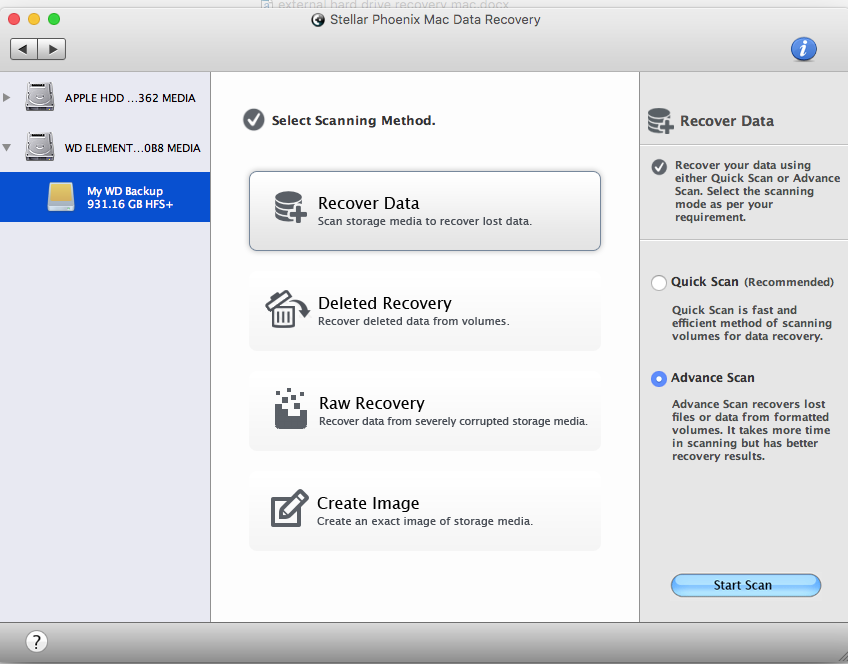 Select the External hard disk drive
Also select Recover Data option after drive selection
Recover Data will give you a couple of options for external hard drive data recovery on Mac.
Quick Scan: this scan is fast and rapid approach to Mac data recovery from an external hard drive
Advance Scan: more time-consuming approach than Quick Scan but yields better results as compared to Quick Scan.
Free Mac data recovery on corrupt External hard drive
Data is not always lost either by file deletion or through external hard drive formatting. At times the external disk becomes inaccessible or display unexpected behavior beyond reasons. This results in data inaccessibility due to the corruption of the external hard drive media. This is a freaking situation since data is lost by corruption, which isn't like a typical data loss scenario. Most of us don't even know the head & tail of an external hard drive and thus panicking begins. But solution to data recovery on corrupt external media is just below:
RAW Recovery feature of Stellar Phoenix Mac, data recovery software, is the answer of recovering inaccessible files from a corrupt external media. Just like the above data loss cases, you have to make sure the hard drive is mounted on Mac OS X and software as well. Then from the interface of the Mac recovery software, you can select the external hard drive and click RAW Recovery option for data recovery. The RAW Recovery gives you couple of choices that are –
Photo recovery – salvages photos, videos and music files from an external hard drive which is corrupt
Recover everything – recoups photos, videos, music files, documents, archives, zip files, emails, text and applications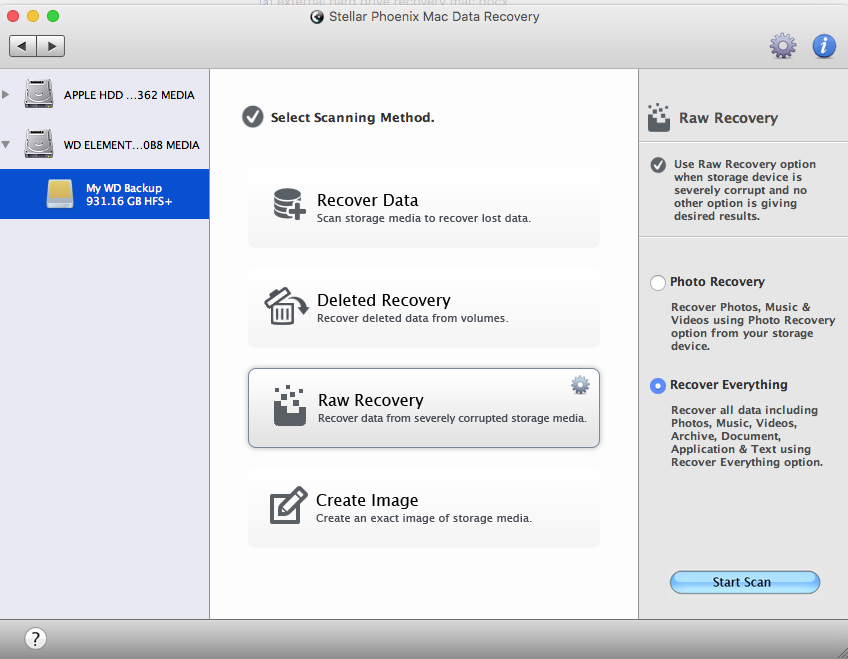 What is RAW Recovery – You must not miss this article if you are still unknown to the term.
Create disk image of the corrupt external hard drive and free recover Mac data
Another great option to recover Mac files from a corrupt external hard disk drive is to build its disk image. Stellar Phoenix Mac data recovery offers the option 'Create Image' so that user can create disk image (DMG) file of the external hard drive and perform data recovery on it. This is most suited data recovery technique if your hard drive has logical corruption and bad sectors. This is also recommended when the external hard drive is large and takes many hours even days to complete the scan. Using 'Create Image,disk' you can divide the large external hard drive into multiple regions and perform data recovery on it.
Steps to create disk image of external hard drive
Mount the external hard drive and select Create Image option
Click on the settings button, which is mounted on the Create Image feature itself
Select the hard drive region. You may also skip this step if the hard drive isn't too big in size
Provide a name (suppose XYZ.DMG)and a safe location for disk image file to be saved
Disk Image is saved and it gets automatically listed under the drive menu. Click on the (XYZ.DMG)file and perform Mac file recovery
Walk through helpful KB articles: How to recover data from lost or missing volumes on Macintosh OS X?
Free Mac partition recovery on external hard drive 
The external hard drive may have multiple partitions of file systems including HFS, HFS+, HFS Wrapper, Windows NT file system, FAT and EXFAT systems. These partitions might get deleted or removed due to any reason known or unknown. The deletion or loss of a partition results only in Data Loss. You might also have removed the BootCamp partition in a hassle in order to make room for Mac OS X but later regretted removing it.
All of the Mac partition recovery worries can now be answered using Search Lost Deleted Volume feature of Mac data recovery software.
Select the external hard drive and click the feature Search Lost Deleted Volume
Software rigorously scans the external hard drive for deleted, removed and / or lost HFS, NTFS, FAT and EXFAT partitions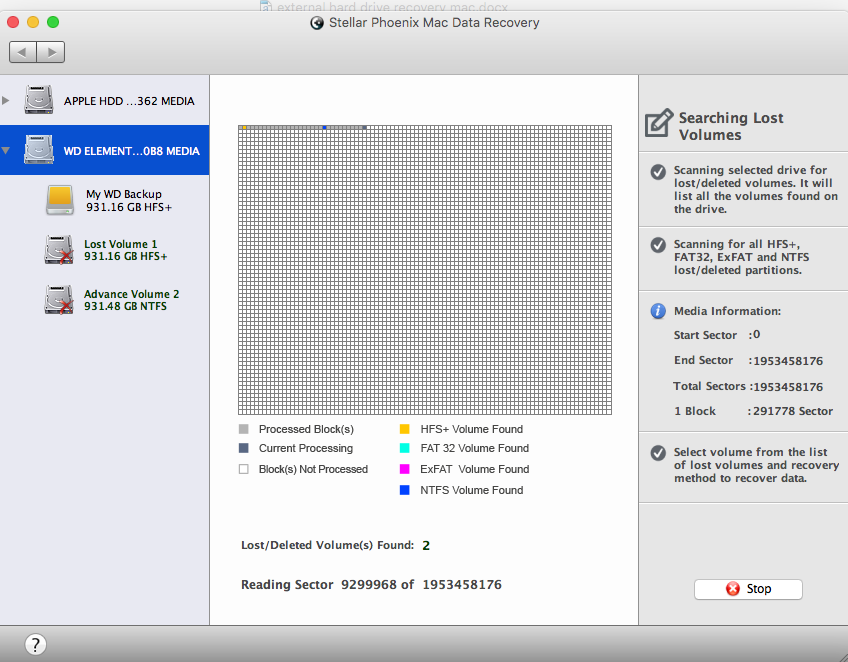 Each recovered partition (of any file system) is listed under the drive menu. You can select the partition and perform data recovery on it.
Free Mac hard drive recovery on password protected external media – NEW 
This is a new feature of Stellar Phoenix Mac data recovery software that restores files that have been deleted or removed from an encrypted Mac formatted external hard disk drive. Our Mac hard drive recovery tool supports all the data recovery features i.e. Deleted File Recovery, Advance Recovery, RAW Recovery and Create Image on an encrypted hard drive.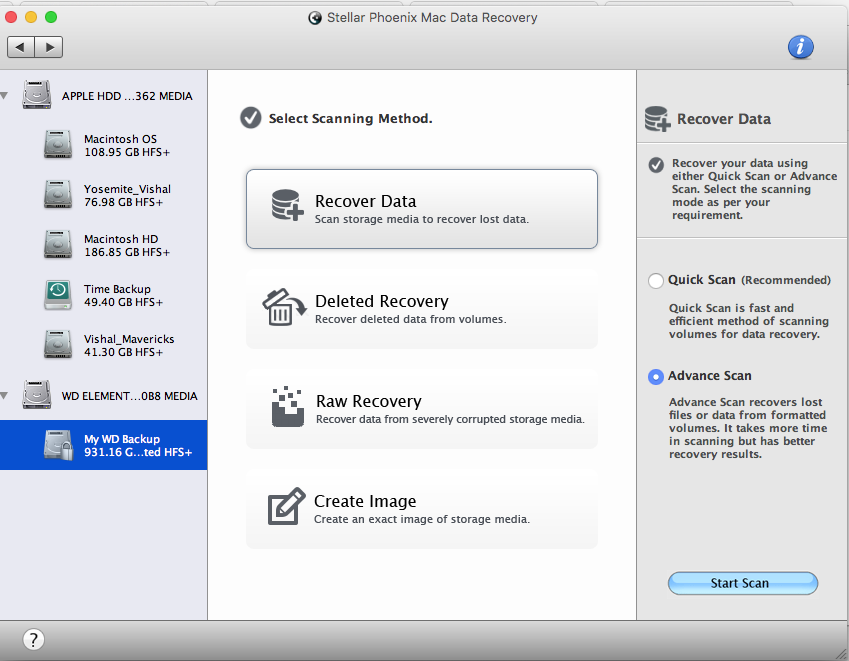 The steps to perform data recovery on password protected hard drive are no different from the steps that are needed on any other file recovery condition. You must read those steps in detail here How to Recover Mac files from Encrypted Hard Disk Drive?
Mac data recovery on deleted or formatted Time Machine hard drive – NEW 
Mostly Time Machine hard drives are large capacity external hard disk drive that is implemented to take incremental backups of Apple Mac hard drive. Each day and hourly, the Time Machine application takes snapshots of the hard drives and save them to the external hard drives in the name of Backups.backupdb. This folder contains all the data of your Mac hard drive in periodic date wise manner.
I should mention that the Time Machine hard drive is no exception to data loss. You can easily loose your beloved Time Machine backups through accidental deletion, hard drive corruption, accidental erasure of the hard drive, drive initialization and bad sectors. Consider a situation where you have backed up your old Mac hard drive with Time Machine application on an external hard drive. Now you sold the old Mac and purchased a new shiny iMac. In an attempt to restore Time Machine data to this iMac you realize that the data is inaccessible. Or may be the hard drive got accidentally formatted in hassle. This results in loosing all the data of your old Mac that was stored safely on this Time Machine external backup disk.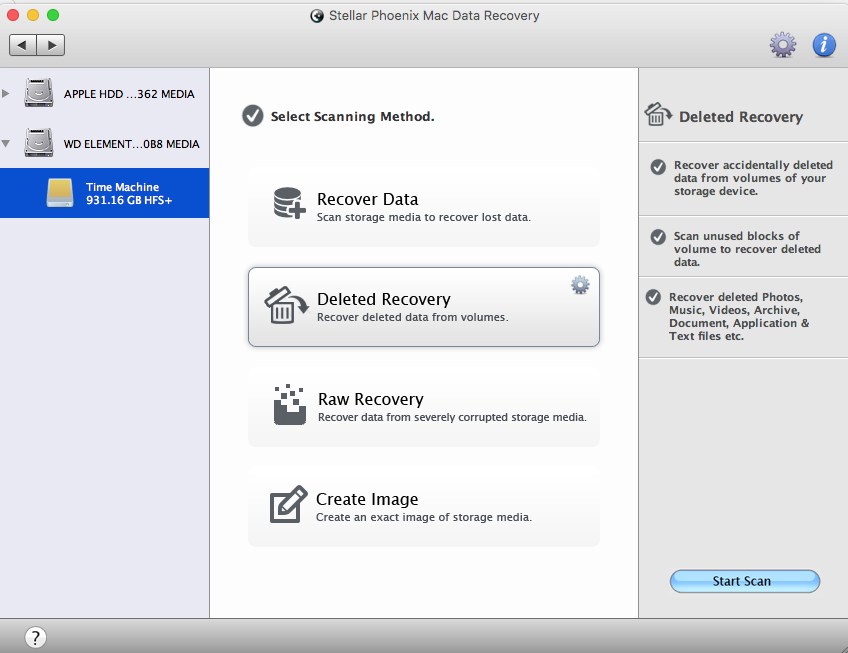 To bring you out from such kind of horrendous situation we have Stellar Phoenix Mac data recovery software that recover deleted or formatted backup files from a Time Machine external hard disk drive.
P.S. – The software now supports Time Capsule sparse bundle disk images.
Conclusion
All of these above factors indicate that the Stellar Phoenix Mac data recovery software has truly amazing capabilities for data recovery especially on an external hard disk drive. None Mac data recovery software offers to recover data from external hard drive in diverse conditions collectively. Still don't believe us?? Try the free demo of Stellar Phoenix Mac data recovery on your external hard drive and find out yourself. The software can be ordered with Recovery CD to boot and recover files from inaccessible Macs. The Technician license of the software is also available for data recovery on multiple Macs from different locations. And yes, we do have a smooth refund policy in case you aren't satisfied with the software performance.